Awards
  Here are a selection of awards earned by our Cast
and Crew and of course Teggie 
WINNER OF LONDON FILM AWARDS-BEST BRITISH FILM 2014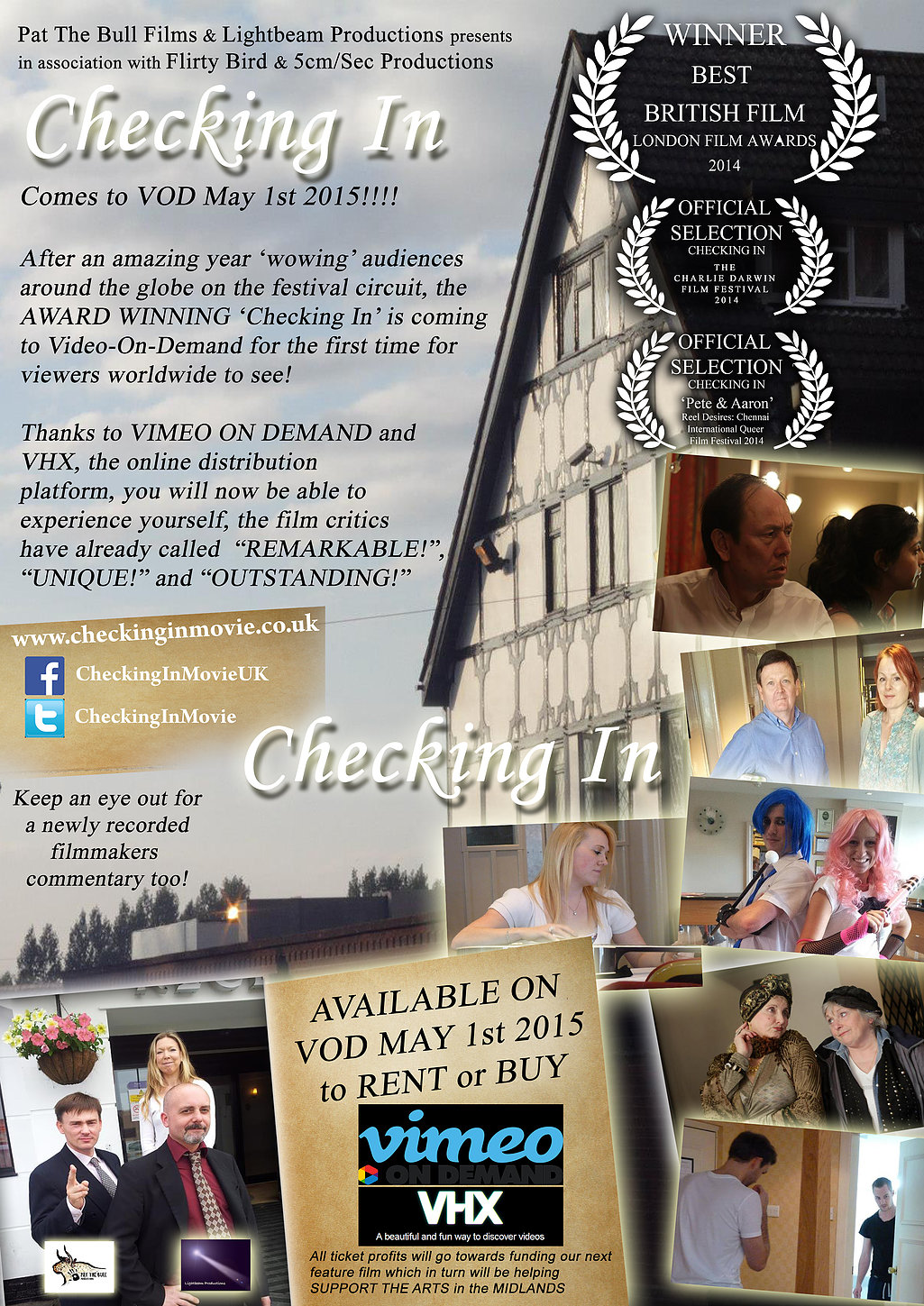 CHECKING IN
Shot entirely at the prime and excellent real life Baron's Court Hotel in Walsall, just outside of Birmingham, 'Checking In' brings together a host of amazing actors and crew.The film delves into the lives of numerous guests around the establishment over the course of a 24 hour period on a random average working day. Told through the eyes of maid Radka (Nici Preston) & Alec the Manager (Roger David Francis), we meet a range of guests; some will make you laugh, some will make you gasp while some will make you think.
'Checking In' was born out of a wish to just want to tell a good story - five in fact! As well as this, it was a chance for a group of local film makers and friends to show that talent is still alive and kicking in the West Midlands just as much as anywhere else - both in front and behind the cameras!
'Checking In' is a joint production by Pat The Bull Films (Kaushy Patel), Lightbeam Productions (David Hastings), Flirty Bird Productions and 5cm/sec Productions (Troy Dennison), and was filmed on location in the West Midlands during 2012 - 2013.
WINNER OF TMFF TRAILER OF THE MONTH MAY 2017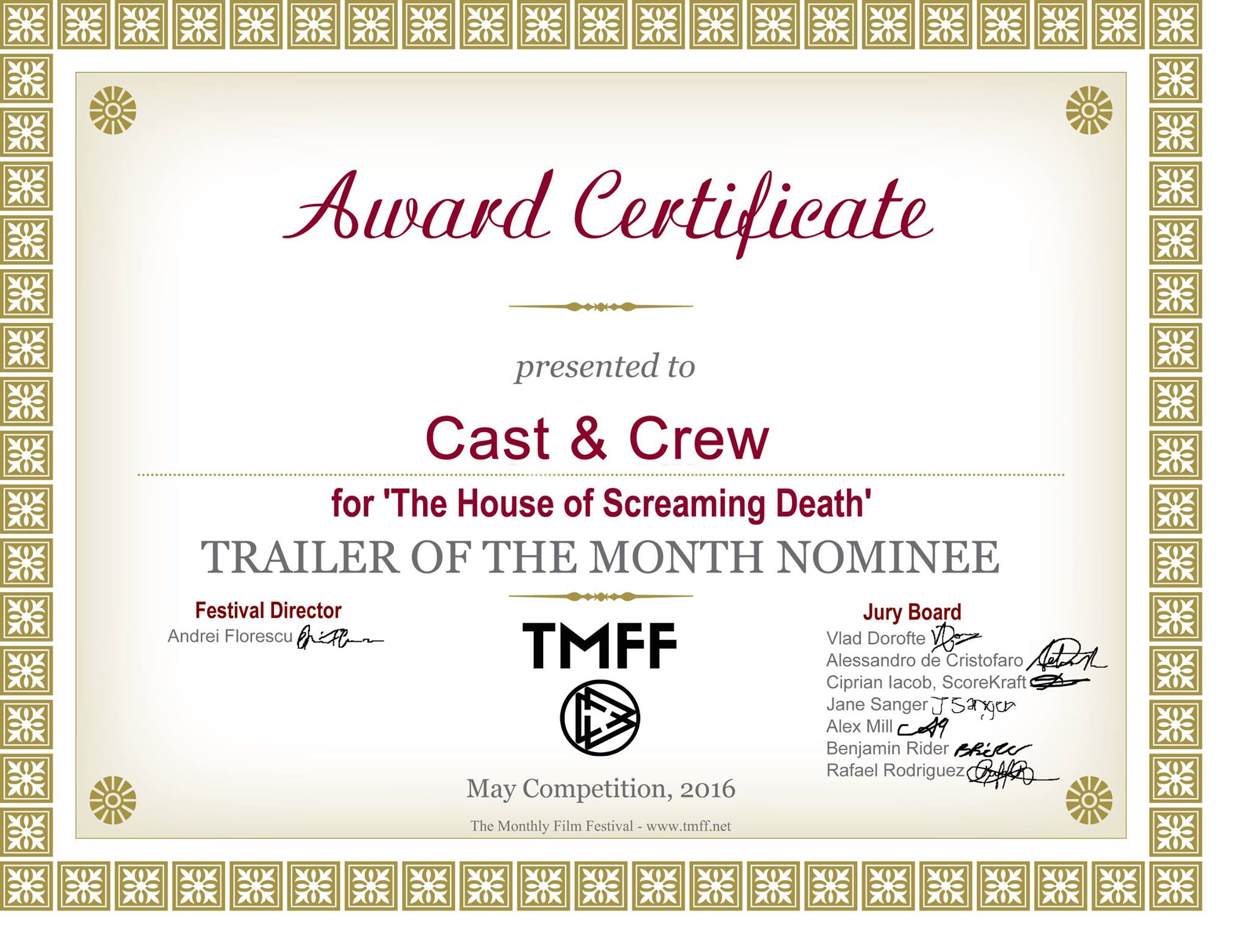 THE HOUSE OF SCREAMING DEATH
With its roots firmly in the world of classic HAMMER HORROR films, THE HOUSE OF SCREAMING DEATH revolves around the sinister and mysterious storyteller, known as THE ARCHITECT who one eerie night, in an old Manor House, is preparing to share four CHILLING tales to a captive audience of very special guests. 
As each story unfolds in its own unique, bloody and frightening way, the finale will shock and terrify as THE ARCHITECT also has one last story of his own to share. Featuring Lady in Grey written and directed by Troy Dennison, The Vampyre written and directed by David Hastings and starring Roger David Francis who plays Lawrence Senior.
Starring Ian McNiece from Doc Martin, Doctor Who and many others.
See The House of Screaming Death Trailer here: https://www.youtube.com/watch?v=H-pRZpWG0JQ
WINNER OF PHOENIX COMICON FILM FESTIVAL & WINNER BEST FILM DEVILS EYES FESTIVAL 2012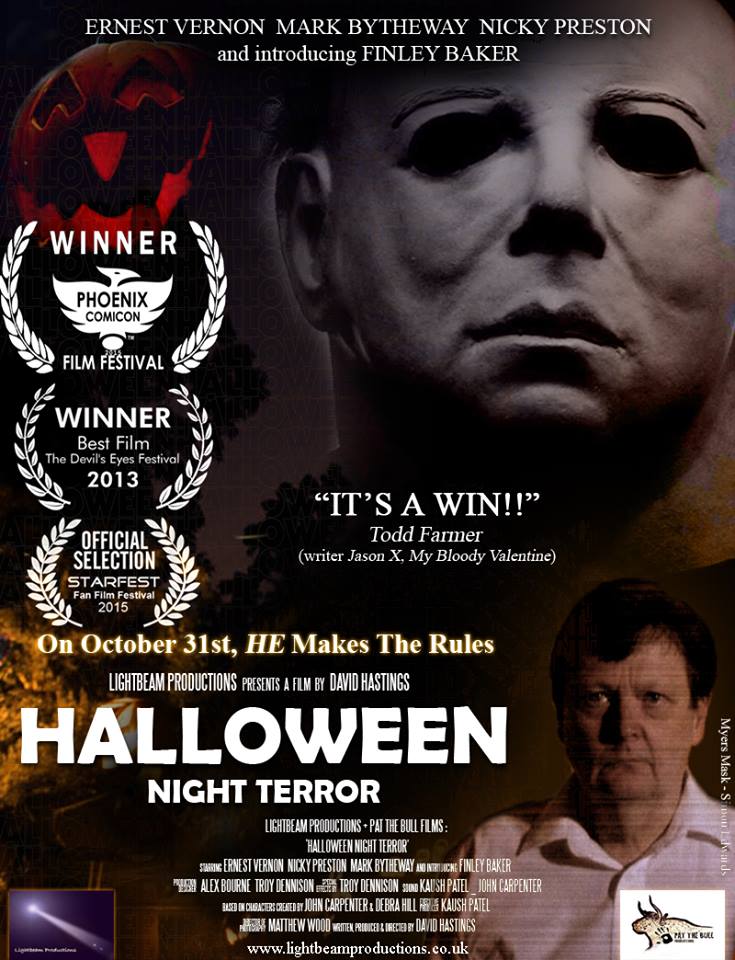 HALLOWEEN NIGHT TERROR
"I've heard of kids trick r' treating, but this takes the mick! Have they been letting the loonies out for the night too? - Jack
In this latest addition to 'The Halloween Chronicles' collection, the mythos of cinema's infamous boogeyman, Michael Myers, expands and proves that on All Hallow's Eve, no-one is safe from the madman's grasp!
It is Halloween night in the state of Russellville, a few miles from the notorious Haddonfield, and resident, Jack Dennant (Ernest Vernon), wants nothing more than to forget all about the ghouls, ghosts & glowing pumpkins, that line his street outside. But after begrudging some visitors at this door, looking for treats, little does he realise, the festival of Samhain has one last deadly trick to play....
Written, produced and directed by David Hastings. Sound Kaushy Patel. FX artist Troy Dennision.
---